Cooking is a fantastic way to unwind, unleash creativity, and try new things while you're at home. Because many of us are spending more time in the kitchen these days, it may be time to press restart to your kitchen by thoroughly cleaning and replacing your cooking tool sets.
Besides a thorough guide on deep cleaning your kitchen, we've also compiled the best silicone kitchen utensil set available online for all of your cooking and baking needs. Using incorrect utensils will not only make your life more difficult, but it may also cause damage to your equipment. If you desire a clean kitchen with nice utensils, scroll down!
Learn How To Deep Clean Your Kitchen In 5 Simple Steps
Many of you may care about how to clean the kitchen thoroughly. Then this step-by-step guideline may help.
Source: Treehouse
Step 1: Preparation
Make sure you have every basic item, including scourers, sponges, paper towels, dishcloths, and a decent pair of rubber gloves to keep your hands safe. Then make a note of any deep-cleaning tools you'll need to purchase, which are:
Limescale remover
Wood/metal polish
Floors and oven cleaner
Antibacterial cleaner for the refrigerator and pantry
A disinfecting spray or a surface cleanser
Step 2: Wash Up Your Kitchen
Clean any pots, pans, and saucepans first so you can have a clutter-free cooking area. Then you're all set to start your deep cleaning!
Step 3: Wipe Down Kitchen Cabinets and Countertops
When giving your kitchen a thorough cleaning, start with the cupboards and surfaces:
Clean the insides. You should bring everything out from your cupboards and drawers first. Then, wipe the inside with your disinfecting spray and a microfiber cloth.
Scrub the exterior surfaces. Wipe clean the outer of your kitchen cabinets and all shelves. If you have an extractor fan, make sure you wipe it clean, too.
Use a suitable cleaning with your cupboard doors. A cloth, a basin of warm and soapy water are usually sufficient for cabinet fronts, while solid wood doors may require the services of a professional cleaner.
Source: Wikipedia
Read more blog posts:
Step 4: Clean Kitchen Appliances Thoroughly
The oven and refrigerator are normally the most difficult cleaning duties in the kitchen, but if you deep clean them both at the same time, you can save considerable time and effort:
Clean the cooker with a cleaner. To begin, unplug it. Remove the shelves and spray cleaner inside the oven and on the door. Don't forget to wear gloves and ensure that the kitchen is adequately aired.
Scrub the stovetop. Chuck out any hot plates from the stove and put them inside the oven, along with an application of cleanser. Allow at least half an hour for the process to complete.
Sort through the refrigerator and freezer. Take out the contents of the fridge and any freezer compartments after unplugging it. Remove any undesired or moldy food and place perishable things in the cooler while you wash the inside of the refrigerator — they shouldn't be left out for over 30 minutes.
Saturate refrigerator shelves. Remove any shelf and immerse it in a sink full of soapy water.
Keep the inside of the refrigerator hygienic. Wipe out the inside of the refrigerator with a light antibacterial spray and a microfibre cloth.
Wash refrigerator shelving. Clean the soaked shelves, dry them, and replace them. Connect the power and restock the refrigerator with fresh food.
Immerse oven parts. Put the shelves and hob plates in the sink to soak before returning to the oven.
Clean the oven. Use a sponge to scrub the cooker's top and insides. You may need a second coat of cleanser for flecked food marks.
With smaller appliances, remove any detachable components and wash each part separately in the sink before the deep cleaning.
Step 5: The Finishing Touches
These last stages will make your kitchen shine:
Clean the sink. Remember to do this task when you've finished the rest of the kitchen. Rinse it with warm water and a small amount of limescale remover or bleach. Let it drain for a few minutes before wiping. If you need to clean stubborn spots, stick to non-scratch scourers.
Wash the floor. Finally, make the floors spotless using a diluted solution of a specialized floor cleaner. Mop the floor well before allowing it to dry. And the deep cleaning of your kitchen is complete!
Source: Unsplash
What To Consider When Purchasing A Kitchen Utensil Sets?
The initial thing to prioritize when purchasing a new cutlery set is the material. How much time (and patience) you can spend on handwashing tools will determine which material is best for you.
Some materials, such as steel, can be washed in the dishwasher. Wooden utensils, on the other hand, should never be put in the dishwasher. Some of the hard plastic utensils are made of poisonous materials, and if you put them on the cookware or near the stove, they'll melt.
Another thing to pay attention to is the kind of cooking you will be doing as well as the pots and pans you are utilizing. Stainless steel utensils reign supreme. But if you prefer ceramic ovens and nonstick pans, don't choose them, as the metal may ruin the protective layer.
Top 5 Best Kitchen Utensil Sets For Cooking & Baking
Berglander 38-Piece Kitchen Utensils Set
Source: Amazon
This 38-piece kitchen set provides everything you need to get started in the kitchen, including a pasta server, ladles, skimmer, spatulas, spoons, and even measuring spoons and cups.
A hanging rack and removable S hooks are also included in the package so that you can hang each item on the kitchen wall. This utensil set is made of high-quality stainless steel and non-stick material, and they're BPA- and lead-free. They're dishwasher safe and ideal for usage at home or on the go.
OXO SteeL 15 Piece Utensil Set
Source: Amazon
If you have stainless steel appliances in your kitchen and like the sleek look, there's a range of kitchenware to match. This cooking toolset, though quite costly, is made entirely of stainless steel, including the crock that comes with it.
This bundle includes OXO's best-selling items, such as tongs and a high-quality veggie peeler, besides the essentials. As the holidays are approaching, this bundle would make a fantastic present for every foodie.
Primus CampFire Prep Set
Source: Amazon
Primus' convenient toolset makes cooking over a campfire a breeze while you're on the go. A large fork for steaming, an oakwood traditional spoon and scraper, as well as the best home meat slicer, are all available in the pack-friendly package (which measures less than 10 inches when wrapped up). Backpackers and car campers will love this set.
Le Chef 6-Piece S Tip Utensil Set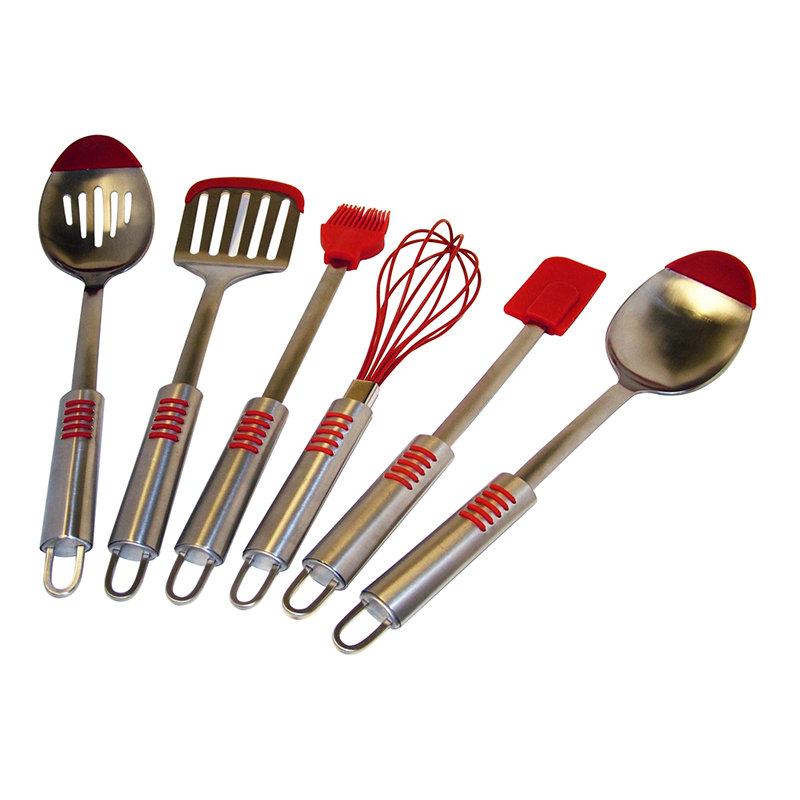 Source: Amazon
The Le Chef 6-Piece S Tip Utensil Set contains FDA-approved silicone tips that have all the robustness of stainless steel but with heat-resistant silicone edges to protect your cookware from scratches. Everything is dishwasher-safe, and it comes with six items that meet all of your basic utensil needs.
Ruffoni 6-Piece Olivewood Tool Set

Source: Ruffoni
Never overlook the importance of having a good wooden toolset. You may work on any culinary task without fear of harming your cookware's polish. This Italian olivewood finish protects the utensils from food damage.
In addition to having a high quality, this set will also look fantastic on your counter with a Ruffoni signature copper coin on each tool handle.
Conclusion
Until these last lines, we have obviously provided you with useful information about the topic. Hopefully, through our post, you can choose the best kitchen utensil set that meets your demand and apply our guidance on deep cleaning kitchens to simplify daily household cleaning tasks.